New sleepers made from recycled materials do not break, rot or degrade
Rail sleepers made from recycled bottles, food packaging and unwanted plastics were installed on a main railway line for the first time.
Network Rail said using the new materials in Wiltshire will help it become carbon negative by 2050.
Rectangular supports are used to support rails and keep them at the correct distance from each other and are usually made of concrete or wood.
The government praised the sleeper scheme for its sustainability.
The new sleepers are designed to be used 50for 50 years, as they do not break, rot or degrade and can resist water, oil, chemicals and fungi.
They were recently installed on the Sherrington Viaduct between Salisbury and Warminster.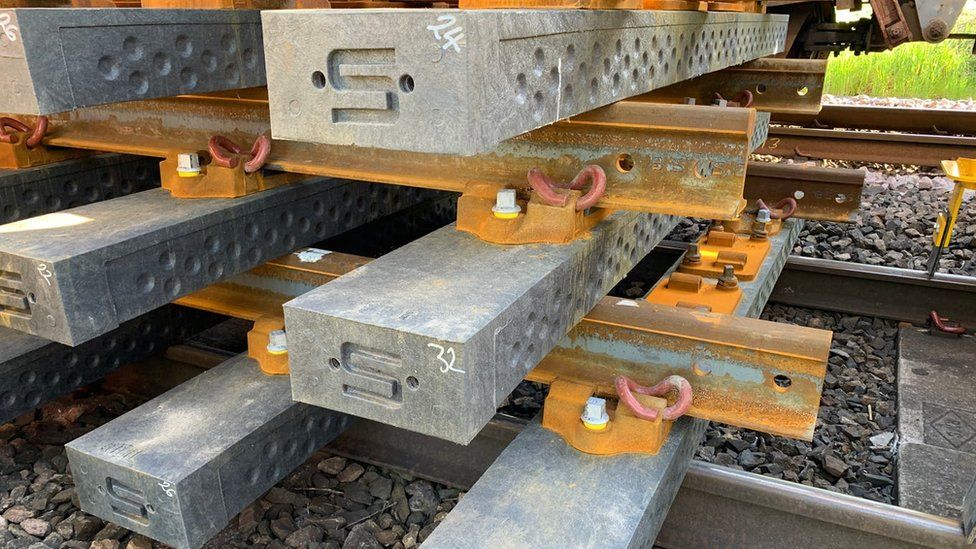 Government Railway Minister Chris Heaton-Harris said: "I am proud to see such a positive innovation being used for the first time on the main railway.
"These sleepers are not just made from locally sourced plastic waste, but they need less maintenance and will last longer, reinforcing our commitment to creating a greener, cleaner and more efficient rail network."
Network Rail's Wessex route director Mark Killick said: "The use of these recycled sleepers on Network Rail's Wessex route is a first for the overland rail network in Great Britain."
The composite version will have a longer lifespan and reduced maintenance, said Network Rail.